Further Contraction of Treasury Yields Combined with Bank's Low Interest Projections over time Led to Exponential Growth in BOLI
BOLI's unprecedented run of prominence reached a new height in the second quarter of 2021.  Both the number of purchases and amount of written premium jumped more than double quarter over quarter and grew by 3 and 8 orders of magnitude Year over Year, respectively.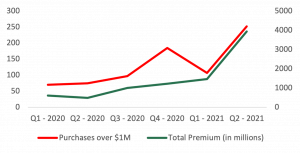 Two main factors have driven BOLI's performance and growth: the continued low interest rate environment and projections that any rate recovery will be long and drawn out.  After brief signs of Treasury relief in the first quarter of 2021, yields dipped again during the second quarter.  Then, even as the Federal reserve has indicated that interest rates will be on the rise some time in the near future, Banks are projecting increases to be small and slow moving.
In seeking return while limiting interest rate risk, Banks have been turning to BOLI to meet both criteria.  BOLI crediting rates are highly competitive with other bank permissible assets, while providing an asset which will respond to prevailing interest rates over time.
Assumptions: $10 million guaranteed issue BOLI purchase, 29% corporate tax rate
Source: 2Q2021 FDIC Bank Call Reports
If you have any questions about BOLI or would like to explore how BOLI could fit into your portfolio, please contact your Mullin Barens Sanford Consultant.
About Mullin Barens Sanford Financial
Through a powerful combination of independence and experience, Mullin Barens Sanford Financial and Insurance Services (MBS Financial) is a leading consulting firm that assists companies with 409A and other executive benefit needs.
Disclaimer: The materials are designed to convey accurate and authoritative information concerning the subject matter covered. However, they are provided with the understanding that Mullin Barens Sanford does not engage in the practice of law, or give tax, legal or accounting advice. For advice in these areas please consult your appropriate advisors.
© 2022 Mullin Barens Sanford Financial and Insurance Services, LLC. All Rights Reserved.
1421 Emerson Ave, Oxnard, California 93033 | Website: www.mbsfin.com
Securities offered through M Holdings Securities, Inc., a Registered Broker/Dealer, Member FINRA/SIPC. #3850377.1